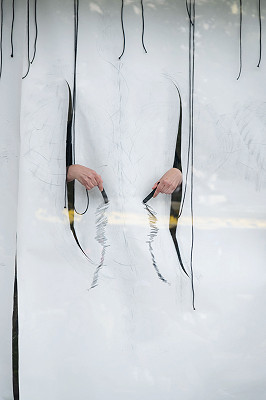 NoTTB-c
UNTIL SEPTEMBER 30, 2023
NoTTB-c
Notations of Touch Through Breathing (collectively)
participatory performance on
Tuesday, 12 September, 5 – 7 pm
(including public rehearsal)
There are two rounds of NoTTB-c. The duration of each slot of NoTTB-c is 20 max 25 min.
1st public rehearsal starts at 5 pm, and the performance around 5:30 pm until 6 pm (max)
2nd public rehearsal starts around 6 pm and the performance starts around 6:30 pm until 7 pm (max)
Kunstraum FUGE – Schaufenster der Heinrich-Böll-Bibliothek
As part of the exhibition HOB NOB #04
curated by Patricia Lambertus
Duration: Aug 6 – Sept 30, 2023
Greifswalder Straße 87
10409 Berlin
Kunstraum FUGE cordially invites Stella Geppert & Friends to the fourth exhibition of the HOBNOB series, which will again take place in the Heinrich – Böll – Library's display window.
The artist's work revolves around communication, breathing, empathy, body, space, sculpture, and drawing. The site-specific performance – which for her is never an end in itself, but constantly forms a dialogue with the surrounding area – is about non-verbal communication, collective bodies, and the modulation of space through breathing. Stella Geppert invites people to participate in the display window, where they will only be visible through touch. The starting point of the work NoTTB-c or Notations of Touch Through Breathing (collectively) is the windows on the façade of the library, which can be opened and closed by a lever inside the display window. Seen from the outside, the rhythmically opening and closing windows appear to be breathing; the architecture breathes in – the architecture breathes out.
Stella Geppert transfers this act to the embodiment of draughts of air as she breathes and touches guests and friends in the showcase space. The encounters take place behind a screen stretched through the entire space. They become visible on the other side through the gestures of touch. These actions leave seismographic traces of charcoal on the curtain, which becomes a resonance carrier. The emerging movement sequences of touch become independent drawings and embodied notations.
The HOBNOB exhibition series stands for the dialogical, experimental, and anarchic space of encounter. Now, library visitors, passers-by, and local residents are invited to take part in a drawing dialogue that moves between control and loss of control.
Support: Art Spring Berlin
Photo: Ralf Bergel